'The West-Dressed Woman': Women's Garments Through Centuries
Release Date: January 3,2019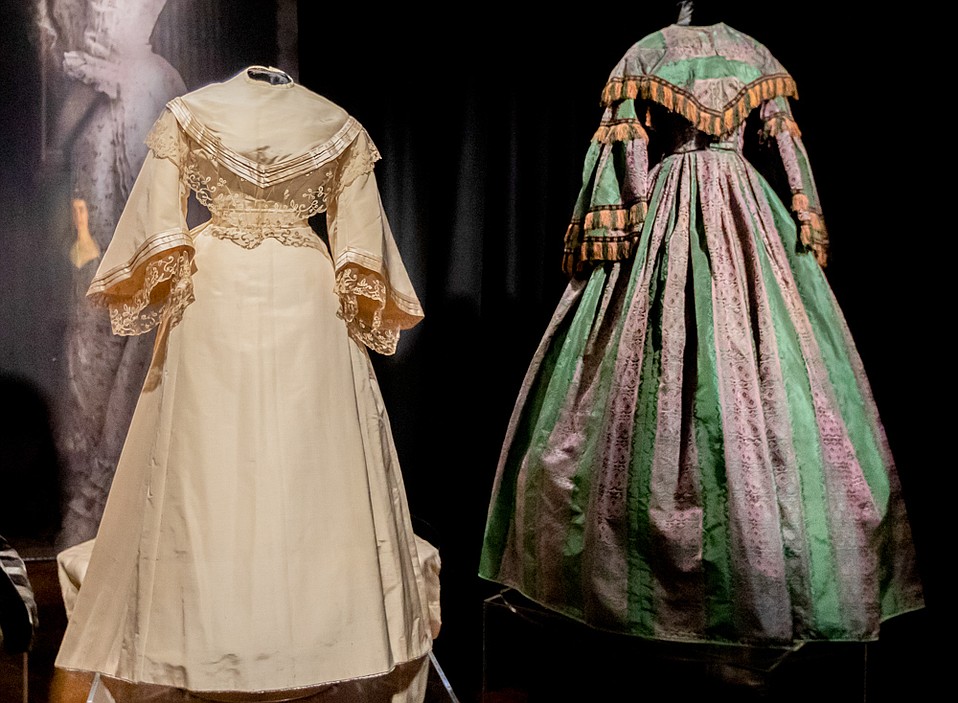 From Left: De la Guerra silk wedding dress (1836) and Trousseau green taffeta and cotton gown (1857)
Thursday, January 3, 2019
Much can be extrapolated about the female experience through an examination of fashion throughout the decades. In terms of area history, the minimalism of a hand-spun, handmade shift dress from the mid-1800s shows the working pioneer woman's need for comfort and utility, while elaborately adorned evening gowns from the turn of the 20th century show, in the progression from hoop skirts and corsets to sleeveless drop-waist dresses, how the perception of a woman's place in society expanded and evolved.
Photo Gallery
Women's Garments Through Centuries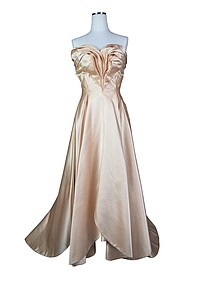 Exhibit shows how the perception of a woman's place in society expanded and evolved.
The Santa Barbara Historical Museum explores this concept in its current exhibit, The West-Dressed Woman: Highlights of the Costume Collection. The West-Dressed Woman paints a picture of the last 200 years in Santa Barbara through the personal garments of notable women from area lore, including Anita de la Guerra ​— ​the young daughter of wealthy rancheros whose three-day wedding inspired Santa Barbara's biggest party, Fiesta ​— ​and Huguette Clark, a little-seen heiress with a massive estate shrouded in mystery (and entrenched in controversy). The displayed costume pieces were chosen by guest curator Sharon Bradford, a museum trustee and history enthusiast whose focus has long been the museum's extensive costume collection. Bradford's selections for the exhibit span decades and social stratification and show the breadth of the museum's collection of more than 5,000 pieces.
"It's really expensive to put costumes on exhibit because of the amount of conservation necessary," said the museum's interim deputy director, Dacia Harwood. "Sharon Bradford has given so much love, time, energy, and resources to our costume collection, which wasn't exhibited for a long time because of the storage and conservation issues." Extreme care is taken in the safekeeping and display of the pieces, which can't be cleaned by standard procedure. Instead, they go to professional conservators in San Simeon and Los Angeles to be prepared for exhibition. The most delicate pieces, such as an extravagant bejeweled bodice belonging to civic advocate Pearl Chase, are exhibited under glass on a specially crafted mannequin. "It can cost upwards of a few thousand dollars to get [a piece] to the point where it can go on exhibit, depending on wear and tear," said Harwood. "Silk pieces, for example, have a life. To mount the bodice like this, so it won't be damaged while on exhibit, is a big process."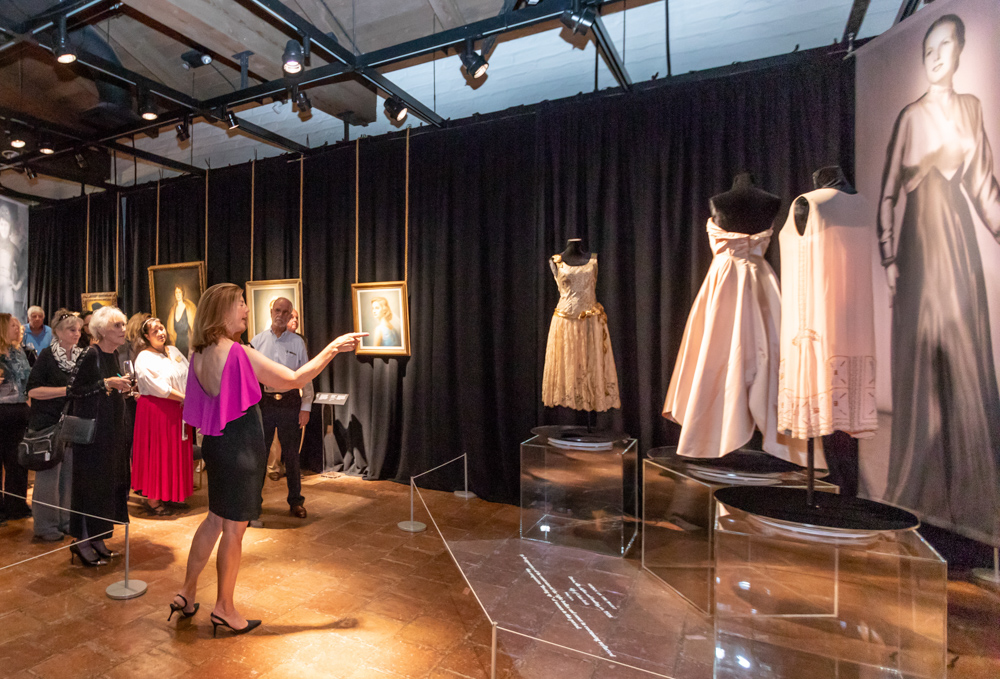 Fritz Olenberger
Santa Barbara Historical Museum guest curator Sharon Bradford is shown taking visitors on a tour of the exhibit.
The collection displays the costumes with an emphasis on their artistry. Set against black backgrounds and positioned on slowly rotating turntables, guests are able to see the entirety of the gowns, each of which has a story that offers insight into Santa Barbara's well-known figures. The Pearl Chase bodice, for example, is physically impossible to fasten onto oneself. There's a spot on the de la Guerra wedding dress from a relative who wore it decades after Anita's wedding, after the gown had been handed down through the family. The dress came to the museum with the stain, but because the garment is silk, there's only so much work that can be done without degrading the quality of the fabric. Maintenance on these articles is necessary for longevity, but the ravages of time are inevitable. Yet those small imperfections ​— ​stains, abrasions, and alterations ​— ​are proof of the lives lived within the clothing. "It's part of the story," said Harwood of the blemish. "Anita de la Guerra wore it, but generations after wore it [as well]. Frederica Poett wore it, but not to get married. She wore it to a party. Supposedly her boyfriend picked her up from the party in an airplane, and they flew up to Rancho San Julian and holed up for a few days. That's how it got the stains."
The garments are paired with photographs and paintings of their original owners, and the exhibit is augmented with portraits of notable Santa Barbara women, such as Catherine Wills, an establishing member of the Lobero Theatre Foundation, and Ganna Walska, the wealthy garden aficionado who created Lotusland on her Montecito estate. Frederica Dibblee Poett, whose legacy includes the stain on the de la Guerra wedding dress, appears in the gallery as well, both in portrait and in benefaction; several of the paintings in the gallery were acquired via bequest from the Poett estate. The portraits show members of Santa Barbara's prominent families, descendant from (or married to) the de la Guerra bloodline.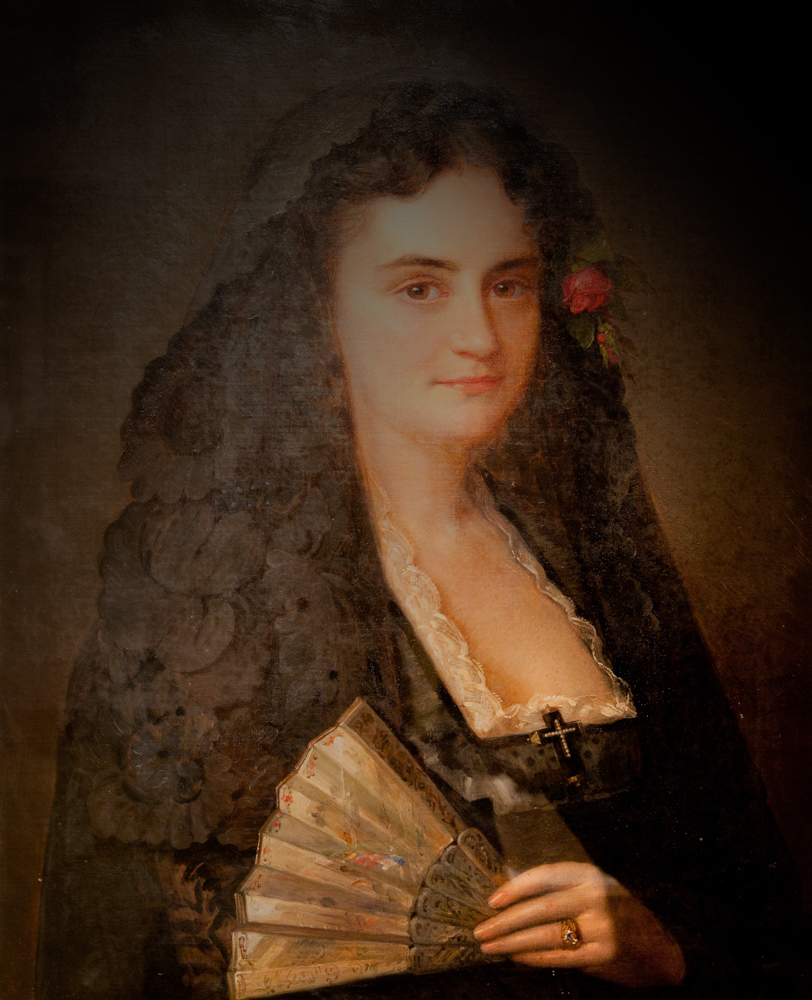 "Francisca de la Guerra Dibblee," 1872 Francisca de la Guerra Dibblee was a granddaughter of Josė de la Guerra and was born in Casa de la Guerra in 1848. She married Thomas Bloodgood Dibblee in 1868 and as a wedding present, Dibblee had built the grand Punta del Castillo mansion overlooking the ocean on Santa Barbara's Mesa bluffs. Guiseppe Fagnani was already a well-known portrait painter when he came to the U.S., ultimately settling in New York City in the early 1850s. Among his subjects were U.S. Presidents Zachary Taylor and Millard Fillmore, as well as John C. Fremont, Henry Clay, and Daniel Webster. (Artist Guiseppe Fagnani)
The collection also features a rare example of Huguette Clark's work, a more than seven-foot-tall oil on canvas depicting a Japanese woman in traditional garb and a piece from painter Orpha Klinker, an artist known for her work memorializing the early 20th-century history of California. "Klinker was a well-known preservationist painter, but she also did portraits," said Harwood. Klinker's portrait of Grace Lamb, believed to be an early-Hollywood film actress, hangs in the gallery. "This was a great way to bring portraits of women out of the collection that we might not normally be able to fit into a story. We wanted this to feel like a salon."
Beyond pieces from the costume and portrait collection, The West-Dressed Woman also incorporates historical photographs, some of which are from the museum's vast assortment of glass plates. Preceding both digital and film photography, glass plates with a light-sensitive chemical coating were used as a medium for capture. The museum has thousands of glass plates, which are being painstakingly scanned into digital format. These 19th-century snapshots contain memories made anonymous by the passage of time.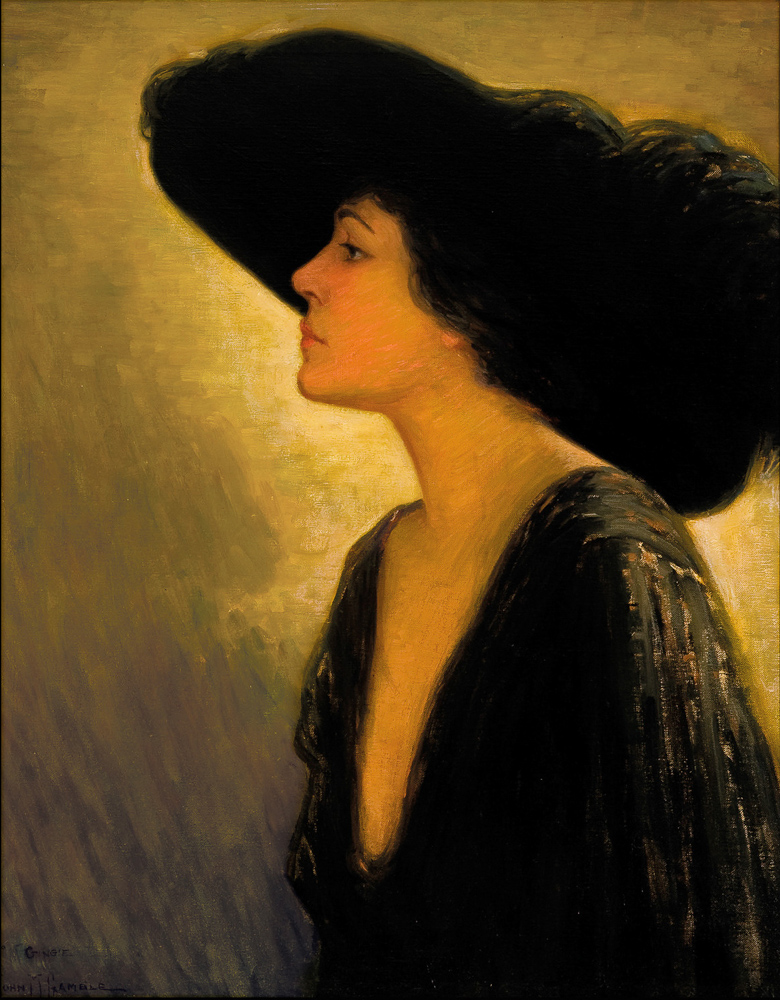 "To Gingie," Portrait of Melita Robinson Tallant Tallant Road is named after this important Santa Barbara family, who was primarily responsible for the development of Oak Park on the city's Northside. John Marshall Gamble was called "the dean of Santa Barbara artists" toward the end of his life. In addition to his portraiture, he was also known for his delicate landscapes of the South Coast region. (Artist John Marshall Gamble)
Unlike artifacts of a sturdier material (for example, structures from the Spanish-colonial era such as the Mission and Presidio), the delicate fabrics and ornamentation of vintage garments can be easily damaged. Textiles succumb more quickly to natural processes of decay than relics of more durable materials such as stone, metal, and adobe, so these costume pieces can't be on display for long. The collection will be on exhibit through March, at which point each piece will be stored in an acid-free box in a temperature-controlled environment for several years before they can be displayed again safely.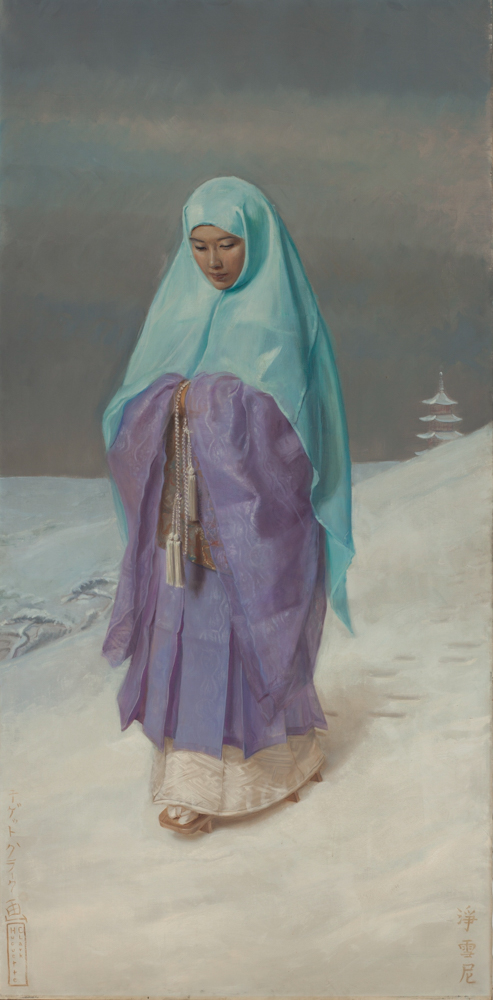 "Portrait of a Japanese Woman" Huguette Clark was the daughter of copper magnate William A. Clark and his wife, Anna E. Clark. Their magnificent estate, Bellosguardo, overlooks Santa Barbara's East Beach. Huguette and her mother contributed the major funding to create the Andrée Clark Bird Refuge, named in memory of Huguette's deceased sister, in the late 1920s. She was a gifted amateur artist and studied with the renowned Tadeusz Styka. Her talent and her fascination with Japan are illustrated here. The painting is signed by Huguette Clark in Japanese characters. Huguette once used a print of the beloved large painting as her Christmas card. (Artist Huguette Clark, Courtesy of Bill Dedman)
Fashion ​— ​especially the clothing and costuming preferences of women ​— ​reflects lifestyle, and the West-Dressed Womancollection offers a relatable vision of old California. "There's more work and detail put into women's clothing," said Harwood. "We have some interesting men's clothing, but it's usually more costumey. Uniforms, Fiesta costumes — that stuff gets passed down. But people generally don't pass down items like a suit." The gowns in the collection, on the other hand, are examples of treasured, one-of-a-kind possessions created in a time before mass-produced, off-the-rack clothing. These pieces show a more intimate side of history by illustrating the lifestyle and personality of their owner, as well as the expectations of the culture at large, one of local ancestral significance. The West-Dressed Womanoffers a unique way to learn about and celebrate women's contributions to Santa Barbara's rich history.
4•1•1
The West-Dressed Woman runs through March at the Santa Barbara Historical Museum (136 E. De la Guerra St.). See sbhistorical.org.