'State Street Serenade' film tells the story of unique Santa Barbara parking garage guitarist
Release Date: January 19,2020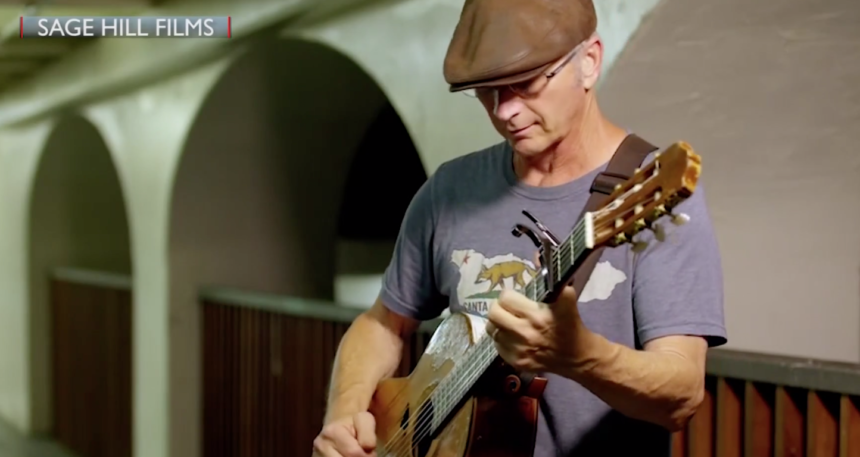 SANTA BARBARA, Calif. - Tucked in the corner of a parking garage for more than a dozen years, Bruce Goldish has been the soundtrack for a small section of downtown Santa Barbara.
Picking and plucking combined with a free-flowing pattern that is sometimes recognizable and at times makes you pause to figure out if the song, he is playing is either "his" music or someone else's.
It's caught the ears of thousands, but not always the eyes. That fascinated filmmaker Michael Love.
"You walk down that lower State Street section and this music just emanates from the parking lot and you don't know where it is coming from. It is really mysterious," said Love.
He created the film "State Street Serenade" about Goldish after going a few verses deeper into who he is and why he's there. It is featured in this year's Santa Barbara International Film Festival.
"And then when I found out that he was an ICU nurse, it just blew my mind. This guy is not a "buxter", he is doing it because he loves to play and he has his own cathedral there with his own acoustics," said Love.
In the movie, we learn how it started on a random night. "I said to myself, I bet I could play cranked up really loud for about ten minutes before they stopped me," said Goldish. "And I think that would be worth it. That was 12 years ago."
The interviews and video for this film came together over about three years.
There was also the challenge years later with the city staff. A parking lot employee came up to him and said what he was doing wasn't allowed.
Goldish pleaded his case. In the film he says, "anyway he didn't really listen and he in fact called the cops and they came up and literally said 'we have been fans of yours for five years can you work something out?' but in the meantime I had to go."
There was a strong push back from Goldish fans. It was eventually worked out. On a recent night he was asked why his guitar has a few extra holes in it, and what's going through his head these days.
"So I am not trained and I have bad habits and one was I used to play with my pinky finger and it rubbed through over the years, " said Goldish about the condition of his guitar.
On his selection, he says he plays, "some of the old songs, and I might medley into something where I am thinking about my mom."
The movie shows the reaction from the public in the parking lot. Some site and watch. Some dance. Others write notes in a book by his guitar case.
Love says, one message said, "'Your music just changed the way I saw the world.' That's pretty magical to have that kind of effect on people."
Reflecting on the film, the people who hear the sounds, and the comments from passersby for years, Love says, "It's about a town with a big heart that would embrace something as unique and special as Bruce Goldish."
Recently Goldish was honored as a Local Hero by the Santa Barbara Independent. He was introduced with other local heroes at an annual lunch.
Goldish received a framed copy of the news story in the same humble way he appears, late at night, in the corner light of parking lot nine above State Street in Santa Barbara.
The film features interviews with local residents including former Capitol Records CEO Hale Milgrim and guitar tech John Mooy.
The movie "State Street Serenade" will be featured in the Santa Barbara Documentary Shorts Saturday, January 25, at 8:00 p.m.
For more information go to: Santa Barbara International Film Festival.
For the Local Heroes story go to: Santa Barbara Independent Local Heroes 2019.